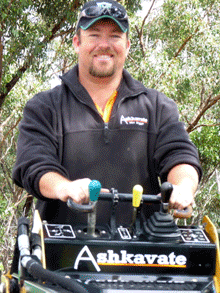 Ashkavate is a small earth moving business servicing central Victoria with equipment that includes a mini excavator, mini loader, a variety of attachments and a tip-truck.
Based in Castlemaine, Ashkavate is owned and operated by Ashley Bannerman. Ashley has 20 years of experience in the building industry and can now offer you his vast range of skills and knowledge to satisfy all your mini digging, small excavation and landscaping needs. We at Ashkavate will happily service both domestic and commercial clients. Ashkavate has an excellent reputation for reliability and getting to your job site as quickly as possible.
Working in areas with limited access and limited space are our specialty. Ashkavate has the appropriate sized machines which are specifically designed to have maximum digging, pulling and pushing power in difficult or awkward areas, where manoeuvrability is restricted and minimum ground disturbance is required.
Whether you are landscaping, preparing a pre-slab site, constructing or repairing a driveway, or requiring service trenches - whatever mini excavations you require, Ashkavate can assist you.
Our machines at Ashkavate are up-to-the-minute, reliable and of the highest quality. We will always provide a safe and professional service and will work with you to achieve your required outcome.
Ashkavate has recently acquired a tip-truck which is suitable to carry a load of up to 3 cubic metres. This allows us to remove excess materials off your site and never be delayed waiting for materials to be delivered to your job site. We can pick up and deliver on site any materials you require such as aggregate, sand, soil, gravel or mulch.
We at Ashkavate are focused on listening to your needs and are committed to achieving your desired results in the most timely and cost effective manner possible. We take pride in leaving all our job sites neat, tidy and to your satisfaction.
You will be impressed by our dynamic attention to detail, enthusiasm and creativity.
Only the best quality landscaping and construction materials are used on all jobs.
Feel confident that your job will be done right.
THE FIRST TIME!